TM EN 450 F EN-F 2005 > 2009 PBR / EK CHAIN & SPROCKETS KIT 520 PITCH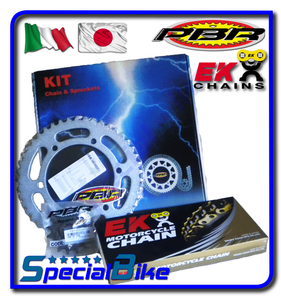 ---
TM EN 450 F EN-F 2005 > 2009 PBR / EK CHAIN & SPROCKETS KIT 520 PITCH CHAIN & SPROCKETS KITTM EN 450 F EN-F2005 > 2009ORIGINAL PITCH - ORIGINAL GEARING
| | | | |
| --- | --- | --- | --- |
| ORIGINAL FRONT SPROCKET | ORIGINAL REAR SPROCKET | ORIGINAL CHAIN | ORIGINAL PITCH |
| 13 | 51 | 120 | 520 |
THE KIT INCLUDES:PBR ergal 7075-T6 rear sprocketThe PBR rear sprockets are made of alloy Ergal 7075 T6 according to a grade of duration and lightness requested. First the sheets are sheared by the press and then, worked on turning-lathe with digital control to be finished in one operation. The rear sprockets are 66% lighter than steel but mantain an excellent durability. The tooth profile with no sharp edges increases considerably the smoothness of the chain and, consequently, the power transfer and the durability of the components.PBR 18NCD5 Reinforced Steel front sprocketPBR has created a new line of front sprockets original pitch version with high robustness and durability. The PBR front sprockets are made of hardened steel 18NCD5 using numerical control machines and washed in a special oil that makes them more shiny and away the rust corrosion. The innovative and unique treatment Dicronite © Dry Lube DL-5 increases the smoothness,and consequently,the transfer of engine power and component life.EK MOTOCROSS series chainOpen chain - not coloredClip type link: easy to install using a standard pair of pliers.It is possible to provide the kit with the gearing different from the standard: please ask prior to purchase.The competitions are part of the DNA of the PBR , which manufactures gears and accessories for all kinds of motorcycles, and distributes the prestigious Japanese EK chains. The great number of victories is enriched from year to year and in 2012 came two more laurels world, one in the FIM Superstock 1000 Cup with Sylvain Barrier Team BMW Motorrad Italy and the other women in motocross with Chiara Fontanesi Yamaha, which in addition to dominate the world has made her the title Italian. The presence of 360° PBR in racing has always been a vital test for new materials, processes and treatments that go then to improve the production dedicated to the series and after market. For several years supports this PBR in Moto GP LCR Honda with the promising German rider Stefan Bradl was given the title of Rookie of the Year.EK Chain Founded in 1941 as a general roller-chain manufacturer, Enuma Chain is headquartered in Kaga, Japan near Komatsu on Japan's west coast. In 1974 Enuma introduced the world's first sealed O-ring chain. Quality is an obsession at Enuma Chain. In 1997 the company was certified to ISO 9001 quality management standards. This certification recognizes the high standards of our quality assurance system and reinforces our guarantee of safety and precision in every product we sell. Research and development at Enuma Chain has always focused on creating technological breakthroughs and developing original ideas. Our invention of the O-ring sealed chain was based on years of accumulated technology, exemplifying a relentless commitment to innovation that continues to drive everything we do.SOME IMAGES ARE REPRESENTATIVE AND, WHILE SIMILAR, MAY NOT BE OF THE EXACT PRODUCT FOR YOUR APPLICATION. TERMS AND CONDITIONS • The product is sold with regular invoice and manufacturer's warranty. • All International orders (outside European Union) are subject to inspection and clearance through customs. • We are NOT responsible for any taxes, duties and fees incurred. Buyers are responsible for knowing their countries specific policies/procedures. • If you have questions about these procedures, please contact us prior to purchase. SHIPPING DISCLAIMER PAYMENTS FEEDBACK CONTACTS

• We ship from Italy, so the buyer is asked to pay attention to the delivery times indicated. • Combined rates: we offer discounted shipping rates for multiple item purchases. • Please contact us prior to completing checkout. • Items in stock will be shipped within 3 days from receiving the payment. • Due to inventory fluctuation, an item may be on backorder. • In this case we will communicate the expected delivery date to the buyer and give the choice to cancel the order for a full refund. • Most backordered items are shipped within 7 - 10 working days. • The shipment would be made by UPS, DHL or SDA express couriers due the weight and the dimensions of the package. • When the item is shipped, the buyer will receive an automatic email notification, then the tracking number will be published in the purchase details. • it is absolutely mandatory to provide a telephone number useful to facilitate the delivery. • Without a phone number, the shipment may not be done. • In the case of failed delivery by the courier, unless it was caused by the negligence of the courier but by not accurate delivery information and inability to contact the receiver, all costs required by courier for further delivery attempts will be charged in full to recipient. • In case of return shipment, all costs will be charged to buyer and deducted from the possible refund.

• We use titles, descriptions and images provided by the manufacturer and/or distributor. • While we attempt to make every effort to ensure the accuracy of this data, occasionally mistakes do occur. • We encourage you to check the manufacturer's website for more information by referencing the manufacturer's part number. • Please also note that some images are representative and, while similar, may not be of the exact product for your application.

• The preferred form of payment is Paypal but we also accept bank transfer. • Only European Union purchasers may require payment in cash on delivery but the request must be made before the purchase. • Payment must be made within 4 days from purchase, otherwise the item will be relisted and the buyer reported to e-bay for an unpaid it.

• We are committed to providing a great online shipping experience. • If, for any reason, you feel your experience with us less than perfect, please contact us right away and we will do our best to help.

• Questions or inquiries...we prefer and encourage you to email us through . • All emailed questions are generally responded to within 24 hours. • You could also contact us to our direct email.

Listing published through eDock.