Territories = NEW DVD R4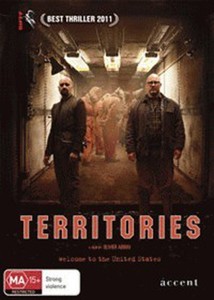 About this product
Product Information
Returning from Canada where they have attended the wedding of a friend a carload of young men are detained on the border by patrolmen. The discovery of an illicit substance leads to further inspection before they are held captive in a camp hidden deep within the woods. Without means of communicating to the outside world the men are afflicted with torturous conditions and intense psychological scrutiny. Before long a private detective is on the trail. Can he get to the prisoners before all is lost?
Product Identifiers
APN
9333723002206
Title
Territories
Format
DVD
Product Release Date
20/10/2011
eBay Product ID (ePID)
118507340
Key Feaures
Theatrical Release Year
2011
Number of Discs
1
Actors
Alex Weiner, Caroline Redekopp, Cristina Rosato, Lena Kleine, Michael Mando, Nicole Leroux, Roc Lafortune, Sean Devine, Stephen Shellen, Tim Rozon
Directors
Olivier Abbou
Rating
MA15+
Rating Info
Strong Violence
Language
English
Run Time
92 minutes
Theatrical Information
Primary Genre
Thriller
Sub Genre
Drama
Studio
Accent
Technical Information
Aspect Ratio
1.85:1
Main Audio Type
Dolby Digital 5.1
Video Format
PAL
Tag Line
Do you have anything to declare?