* Italy 'Melia' SICILIA * Small Vase 70er years * Ceramic * FRUIT MOTIF *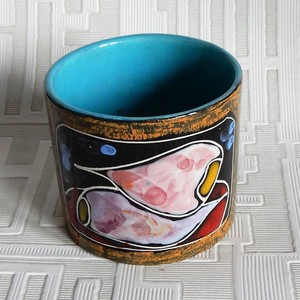 ---
Zylindervase 70er-Jahre

Kleines Zylindergefäß,weißer Scherben, braun strukturiert glasiert,abstrahiertes Früchtemotiv (Feigen) auf der Schauseite,innen türkisfarbene Glasur, bodenseits eingeritzt: Italy / Melia (Sizilien)↑ 6cm –  Ø 7cm gebraucht,kleiner Haarriss in derInnenseitenglasur --> Foto #5,keine Chips o.ä. ************ Portokosten: DE  4,00 € / EU 6,00 € Bei Sammelversand Portoanpassung nach DHL-Tarif

The shipping costs to other countries are very different. Ask for it please. Les frais d'expédition vers d'autres pays sont très différents. Demandez-les s.v.p. Le spese di spedizione verso altri paesi sono molto diverse. Chiedere per favore. Los costes de envío a otros países son muy diferentes. Pregunte por ella por favor.  Privatverkauf >>> folglich keine Gewährleistungs- und Rücknahmeverpflichtung.